Docotral thesis successfully defended: Congratulations to Dr. med. Hannah Vetter
The project was entiteled "Early diagnosis of liver failure in septic patients using the LiMAx test". In a prospective study, Hannah analysed liver function characteristics at multiple timepoints in 28 septic patients on a surgical ICU. The results showed that respiratory, renal and hepatic dysfunction (assessed by LiMAx and ICG-PDR) were associated with prolonged ICU-LOS and LiMAx values below 100 μg/kg/h and respiratory dysfunction were associated with increased mortality. (more details about the topic were published in Crit Care. 2013;17:R259).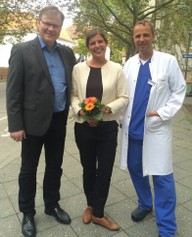 2016/09/30
Docotral thesis successfully defended: Congratulations to our workgroup member Dr. med. Maximilian Jara

Maximilian investigated important aspects, like test re-test reliability, diagnostic accuracy and clinical benefits, of the dynamic liver function test (LiMAx). In a series of studies and publications, his findings contribute to the scientific basis about the power of the LiMAx test for clinical application.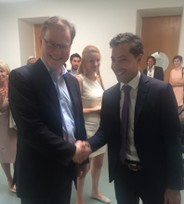 2016/07/01